ADEPT Decisions Engine
ADEPT™ Decisions combines a highly flexible decisioning solution with Software as a Service (SaaS), to manage best-practice champion/challenger direct marketing strategies that will continually test, learn and maximise the profits of clients' marketing campaigns.
Direct Marketing Use Cases
Personal Loans
Market relevant offers to customers, addressing their loan amount, repayment term and affordability needs
Credit Cards
Present balance transfer offers to new customers, and extend relationships with loan customers
Short Term Insurance
Undercut competitor pricing to attract new prospects, and grow product holdings for existing customers
Motor Insurance
Market to identified new vehicle finance customers. Target annual renewal periods for attracting new customers
Telco Contracts
Migrate pre-paid customers to appropriate contracts, and cross-sell add-on services, second lines etc.
Funeral Insurance
Offer the correct funeral insurance product to new credit customers, and as an add-on to short term insurance products
Direct Marketing Features
Omni-Channel
Select appropriate channels for marketing activity for each prospect – call, SMS and/or email
API Integration
Automated API integration enables the seamless feeding of fulfillment channels
Multi-Dimensional Modelling
Selections driven by a combination of risk and response outcomes
Call Centre Integration
Supports multiple call centres, enabling the testing and comparison of both in-house and external capabilities
Champion/Challenger
Run multiple strategies to test and learn response rates and take-up based on a variety of approaches
Performance Analysis and Reporting
Full end-to-end reporting on campaign performance, with outcomes data fed directly into model tuning and redevelopment
Direct Marketing Client Benefits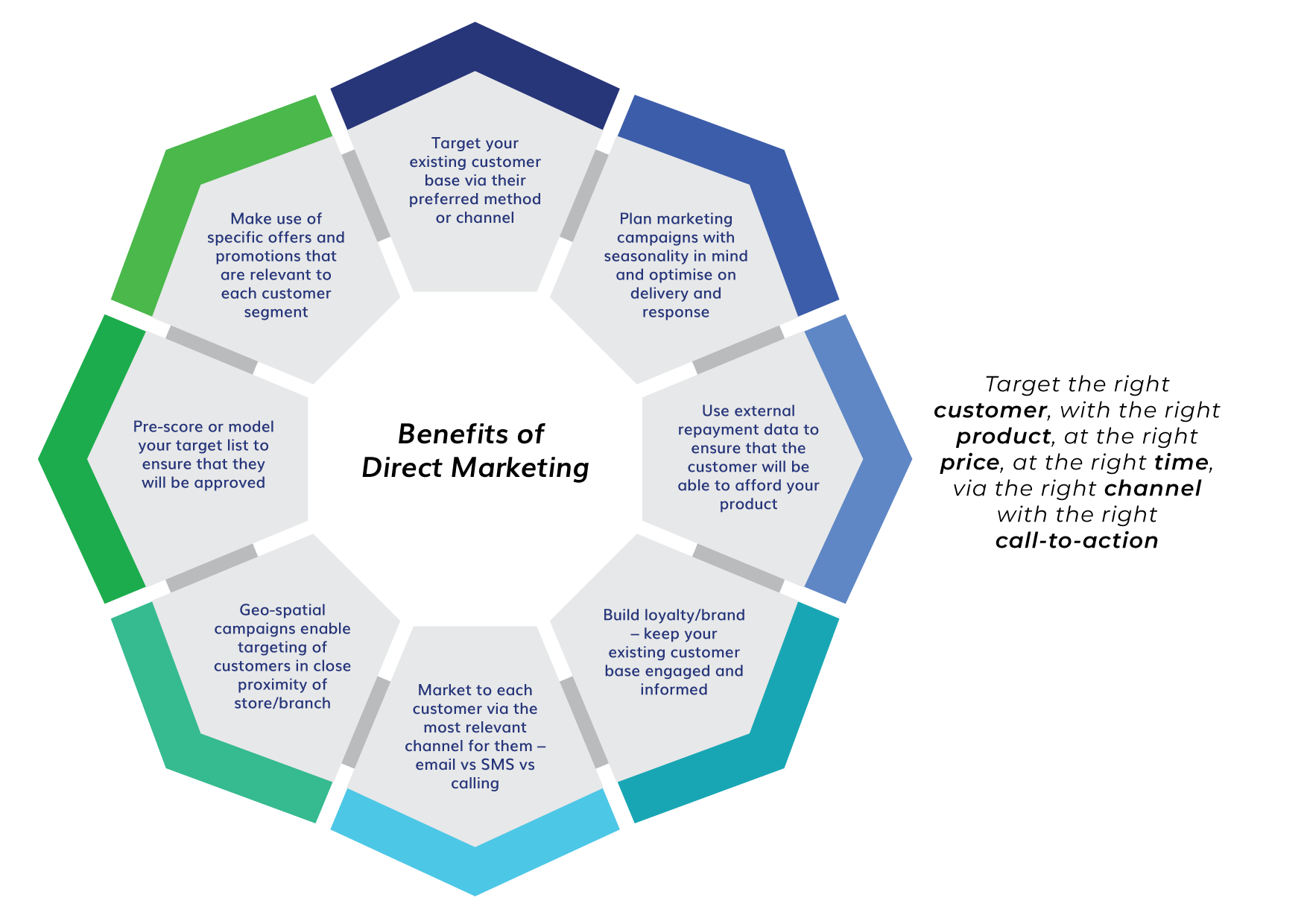 Contact Us
We provide flexible decisioning solutions, training and ongoing support to a broad spectrum of clients worldwide.
To learn how our 360° decisioning solutions can benefit your organisation, email us at: